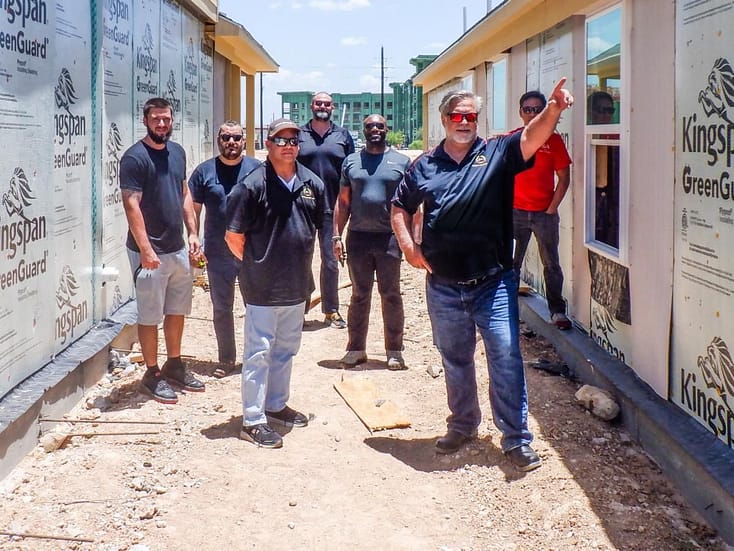 Satisfied Customers of InspectorTX
Looking For The Best? You Have Found Him!
When looking for an inspector there are various things to consider. Bryon makes inspecting a home a breeze. He is well rounded and able to assist in all home inspecting matters. I highly recommend him and encourage anyone to use him. FYI, I have used him for the last three homes I have purchased.
Samuel L.
Response:
Samuel thank you… You are wise to have us inspect 3X, as you see many things are the same, while serious things like possible gas leaks and explosions can be found NOT on the 1st & 2nd, but the 3rd time. Electrical issues are Not to take lightly and can be shocking or worse even on new construction… You are wise to look past the pretty cosmetics thanks for letting us help you.
Broyon A. Parffrey
---
First Rate!
Bryon is exceptionally knowledgeable, a great teacher, experienced, fun, fair and honest. Furthermore he has saved me a lot of money on owner-building my own quality house. I highly recommend him and his services.
Ignacio V.
Response:
DR. V! THANK YOU! Congratulations on your Foundation Pour and BUILDING ON A SOLID FOUNDATION! Great job Builder sleeving those pipes and pouring 3000 PSI!!!!! Super having met the family to on site helping you build your dream home you deserve! InspectorTX & www.BuildersAcademy.com Building Solid Foundations in class and onsite for generations to come…
Bryon A. Parffrey
---
Saved Us a Lot of Trouble
Hello Bryon,
We would like to thank you immensely for your cooperation and assistance regarding the inspection of the property we were considering purchasing. We have no interest in moving forward with the purchase of this property.

We will contact you for our next inspection.
Thanks again!!
Regards,
Adrian & Teresa Arrona
---
High Quality Home Inspection and Professional Service
Bryon and his team provided excellent service. They were very professional and were very knowledgeable. Bryon was able to answer questions during the inspection and not just at the end like other inspectors. Bryon also pointed things out to me during the inspection as he was inspecting. I highly recommend Bryon A. Parffrey and InspectorTX, LLC.
Les C.
Response:
We appreciate your kind words. As we say "Be wise before you buy, see what our team sees with our complete photo reports." Its a lasting impression and better than a one or two time walk through of what your about to buy.
Bryon A. Parffrey
---
A Five Star Rating Is Not Enough!
I was very pleased with the level of service from Bryon A. Parffrey InspectorTX, LLC. Bryon and his team (including a licensed master electrician, a licensed WDI inspector, and an aerial drone pilot) provided the most through 250 page report my real estate agent has ever seen in her 20+ years of experience. My realtor assumed that I paid more than double the amount for Bryon and his team of experts. I received a home inspection package discount including thermal analysis, WDI inspection, and an aerial drone inspection (very highly recommended). Bryon went out of his way to accommodate my option period deadline when nobody else would. In addition, Bryon provided the inspection report the following day! This was the best experience I have ever had with any contractor. Thanks Bryon !!!
David H.
Response:
David thank you and Your Buyers Agent REALTOR. We appreciate your business and kind follow up it helps us and others in choosing the right inspector and team with proven results for you investment. We like to share and show you what we see. That is why we add 100 plus photos so you can walk through and see the conditions of property and the major concerns that matter most for your investment. You were wise to have us do the extras like Drone and full over view, termite and Infra Red as you know it shows you much more than a cheap inspection. If you proceed further we highly recommend having the sewer camera inspection so we can check the main lines up to 150 feet too. You definitely want this after foundation repairs or homes older than 20 years. See more with us as we investigate more with the proper tools and experience of 30 plus years to help you decide.
Bryon A. Parffrey
---
Prompt and Professional
I have dealt with many inspectors in the past and Bryon Palfrey is bar none the best. He and his team were extremely professional and knowledgeable. I felt that they were very thorough and patient with any questions that I had and explained everything to me in great detail. Bryon is a true professional and his knowledge and customer service is exceptional. I will use his services in the future for any inspection needs. His report was very detailed and the price is fair.
Anthony F.
Response:
Very kind of you to write this to help many, including us. We enjoy our work and helping so many to know what they are truly buying. For years there has been a joke about 4 eyes; people wearing glasses, but well he works in a team so 8 eyes to 10 help you really see what we see on your investments. So many buy after one realtor walk through. As a broker, I know that it is unfair for buyers, so we show you what we see and find snap by snap for you and yours and we uncover more than 1 or 2 time walk through's do. Thank you for sharing and hiring us to help you.
Bryon A. Parffrey
---
High Quality Professional Inspection
This is the 2nd new construction home I have asked Bryon to inspect. I appreciate his thoroughness and how he takes the time to explain issues and presents resolutions. He really goes the extra mile by putting pictures in the report to ensure the customer knows what they are looking at. He goes above and beyond to educate you on how things should be and improvements that can be made. I needed my inspection turned around fairly quickly and Bryon went out of his way to make sure that I received it on short notice. Purchasing a home is a big investment, Bryon's inspection gave me assurance I was making the right choice. He is worth every penny and I would strongly recommend him. Thanks again Bryon!
Best, Pree N.
Response:
Pree, great working for and with you again! Thank you so much for the great review and hiring me and my team. I hope you got that "builder" to fix those concerns especially your attic walkway to your equipment, media filter and the safety items noted. Thank you also for your referrals and serving our country as a Honored Veteran.
Bryon A. Parffrey
---
Professional, Patient and Through
After accompanying Bryon as he conducted the inspection on a property that my client was purchasing, I hired him to conduct the inspection on a property that I'm looking to purchase as my personal residence. He was very professional, thorough… and knows his stuff! His inspection report provided the support needed to request specific repairs from the sellers of the property. I will definitely refer him to other clients in the future. Thanks!
Latoya B.
Response:
LaToya thank you! Truly you are a wise home buyer and professional.
Bryon A. Parffrey
---
Reigning Glory Church
Attention to detail & great experience!
When buying a commercial church building, we used Bryon Parffrey. He and his team were all very professional and kind. We were very pleased with their attention to detail and appreciate how they left everything clean and in order. We feel we received quality service at a reasonable price. The owner is just awesome as has even been a help to us after this initial service. He and his entire staff seemed very knowledgeable and thorough. We had a a great experience and outcome and would definitely use this company again.
---
Bryon Was A Champion! Great Houston Home Inspector!
Bryon was a champion for us (the buyers) when inspecting the home under contract. He was able to identify several material items that we could not have identified on our own. He was courteous, kind, efficient and very thorough.
Jaymie A.
---
I Found The Right Inspector
Finding the right inspector is no small task. Getting one with an in depth knowledge of the work is even harder. With thousands to choose from, sometimes one just relies on good reviews from customers. Bryon and his crew did a fantastic job with our house inspection. They were very thorough and meticulous and inspected our house like it was thier own. They provided a 174 page comprehensive report filled with pictures that I'm sure our builder is going to hate. I highly recommend this company!!
Rosanna W.
---
Fast Response and Report Delivery
Bryon Parffrey did more than what he needed to do to help us with our home buying decision. He was exceptional. He performed the inspection immediately, prepared and delivered his report in less than 24 hours – way faster than any other inspectors I've dealt with in the past. My husband and I are extremely pleased. His report is thorough, detailed and specific. I highly recommend his service with no reservation.
Tess in League City
---
First Time Home Buyer
Bryon,
Thank You for the report. You were very patient and thorough. It helped relieve some of the first time home buying anxiety. Will definitely recommend You to others.
Razi
---
Great Report with Many Pictures
He took almost 200 photos and produced a 97 page report on a beautiful ten year old Village Builders home. Little did we know that even the top builders forget to do things or just simply take shortcuts. This man literally wrote the book on this stuff. The fact that he is a builder means that he had seen things in practice.
He let me follow him around and he explained every item in easy to understand terms. Usually you can't bother the inspector. I think he was on site over two hours and he checked everything possible.
His report was very nicely formatted and delivered in a timely fashion. I can appreciate that since I work in security and controls / cyber security. He also followed up twice and asked about the home purchase.
Do yourself a favor and go with Bryon. You will not be disappointed and you'd be amazed at the extra leverage you get as a buyer. A+
---
Built to All Requirements
Indeed we were very pleased with the work that Bryon did. In our case we had a contract to purchase a brand new shopping center on which the construction was not a 100% complete yet. So subsequent to Bryon's inspection, we were able to go to the seller and request that he complete certain repairs and modifications that the report recommended. Most important to us was to make sure the building was built in compliance with the department of licensing and regulations requirements and that all electric work was done alleviating any future hazards. The outcome was very pleasing in that the seller complied with most of Bryon's recommendations.
I would most definitely call on him again for future inspections.
Best regards,
Fred
---
Master Inspector
I initially chose Bryon because of this master certification in home inspection. I wanted someone who understood all of the codes and regulations so I could confidently purchase my home. What I got was far beyond that. I received not only a thorough report that show deficiencies, but a complete walk through of the problems so I could understand what needed to be done to rectify them. Additionally, Bryon has been the most responsive inspector I have ever worked with as well as a very patient, kind hearted person. I would surely recommend him to my friends
Ryan
---
Great Service!
Our inspector was excellent. He was friendly, professional and very thorough. He answered all my questions. He brought us around the house and pointed out specific issues that needed to be addressed and then supported them with pictures in his report. I would definitely recommend this business to my friends.
Kathi W.
Response:
Kathi, Very kind of you to do review and 5 stars without asking you. THANK YOU for this and having us inspect for you great working for you and meeting you.
Bryon A. Parffrey
---
Very Through and Detailed Reports
I have had Bryon and his crew do two inspections for me. They are far more thorough and detailed than any other inspector I have used. I would highly recommend!
Ken T.
Response:
Ken a pleasure working for you and helping you in the maze of home and investment purchases and issues in repairs. Always think Safety 1st, and Structural integrity!
Thank you, Bryon A Parffrey
---
Very Recommended
Thank you for your very professional and quality service. You and your crew were very polite and courteous. You were very informative when assessing our concerns.. We have read the report and it was very thorough. We are so glad that your company performed our inspection. We have recommended you to others based on the information that we received. Thank you for a superior job.. On a scale of 1 – 10 we give you a 20 off the chain and overboard.. 5 STARS!
Alfred & Cora Z.
Response:
Very kind of you. Thank you for having us inspect for you and your kind words. Lord Bless.
BRYON A. PARFFREY, LLC.
---
Top Quality Real Estate Inspector
There a thousands of choices when looking for a quality real estate inspector. The top Houston real estate inspectors have many qualities that seperate them from the rest of the crowd. The one thing to look for when selecting a company to do business with is longevity. You wouldn't want a bank that has only been in business for a year, and the same goes for an inspector. Bryon Parffrey has been in the building and construction industry for more than 35 years. He is an authority on home inspections and the author of several books on the home building process. Bryon mentors other inspectors and offers one-on-one training to those looking to start an inspection career. You can rest assured that you've hired the best home inspector in town when you choose Bryon Parffrey.
---
First Time Home Buyer
Bryon,
Thank You for the report. You were very patient and thorough. It helped relieve some of the first time home buying anxiety. Will definitely recommend You to others.
Razi
---
Houston Energy Audit
As a consumer I would like to recommend Bryon Parffrey's inspection services. I have hired Bryon to inspect my new home on two separate occasions; once for a property inspection and the second time for energy efficiency. I have found Bryan to be a very knowledgeable, current and reliable inspector. The inspections he has completed for me have been professional, though, detailed and promptly completed. Unlike other inspectors I have used in the past Bryon backs his findings with photos and clear explanations of corrections and/or changes needed. He has found errors that other inspectors have missed and is most current on building regulation changes. Bryon is a natural teacher and stays on the cutting edge of technology advances in building healthy energy saving homes. He has help guide me on several occasions when I have called upon him with questions regarding my home and I trust his judgment.
I highly recommend Bryon's services whenever it comes to construction inspection.
Sue Ayers, MS
Tomball, TX
---
Katy Home Inspectors
Bryon Parffrey asked me to tell you about his help and guidance. I could not have gone through what I did back in 2007 without his help. I had signed up with a builder in the neighborhood that cut so many corners on my new house it was unbelievable. I finally had to fire the builder and my son completed the house. We could not have gone thru the misery of firing the builder and completing the house without Bryon's timely assistance.
I had originally signed Bryon up to be my inspector (just to oversee all the details). After a visit to the job site, he would send me photos of good things accomplished, and other items that needed work. The builder ignored all. Finally, I decided to fire the builder, and Bryon helped me obtain the necessary paperwork to complete the house. Bryon is as honest as the day is long….and VERY competent.
You cannot go wrong with Bryon Parffrey!